Careful what you wish for
My last in-person conference before the pandemic was NDC London back in January 2020. I distinctly remember being quite tired at the beginning of 2020. For me, 2019 had been a long year with 50+ speaking engagements at a variety of conferences all around the world. I just wanted to take a short break in early 2020.
Little did I know that the short break would turn into a 2.5 year long break due to a global pandemic. I'm extremely grateful that I was able to continue working and speaking in many online conferences during the pandemic. However, as the pandemic dragged on, my enthusiasm for online events diminished. I sorely missed connecting with other speakers, meeting attendees, and exploring the city I was speaking in.
In early 2022, it finally looked like some conferences would return to in-person events. Even though I had three vaccines and had a mild case of Covid early in the year, I was still not sure how I felt about attending a conference in person. However, I was convinced that I had to start somewhere. My first in-person conference was supposed to be in March 2022 but I had a little déjà vu moment when it was switched to online at the last minute.
The next scheduled in-person conference was in May 2022. I was fully prepared for it to be turned into an online conference, postponed, or even canceled. I was excited and nervous at the same time as I booked my trip.
Two days before my trip, British Airways canceled my flight. Airports and flights out of the UK have been a nightmare lately with cancellations and delays due to staff shortages and also probably due to Brexit. I was lucky enough to find another flight earlier the same day and stuck with my original plan.
Back on the road after 2+ years!
JFokus
JFokus in Stockholm, Sweden (May 2-4) was the first conference I was able to attend after the pandemic and after more than two years with no in-person events. Coincidentally, JFokus was also the first conference I attended as a Googler back in 2016 with my good friend and ex-colleague Ray Tsang. It's a Java-focused tech conference and one of the biggest and most well-established conferences in Sweden.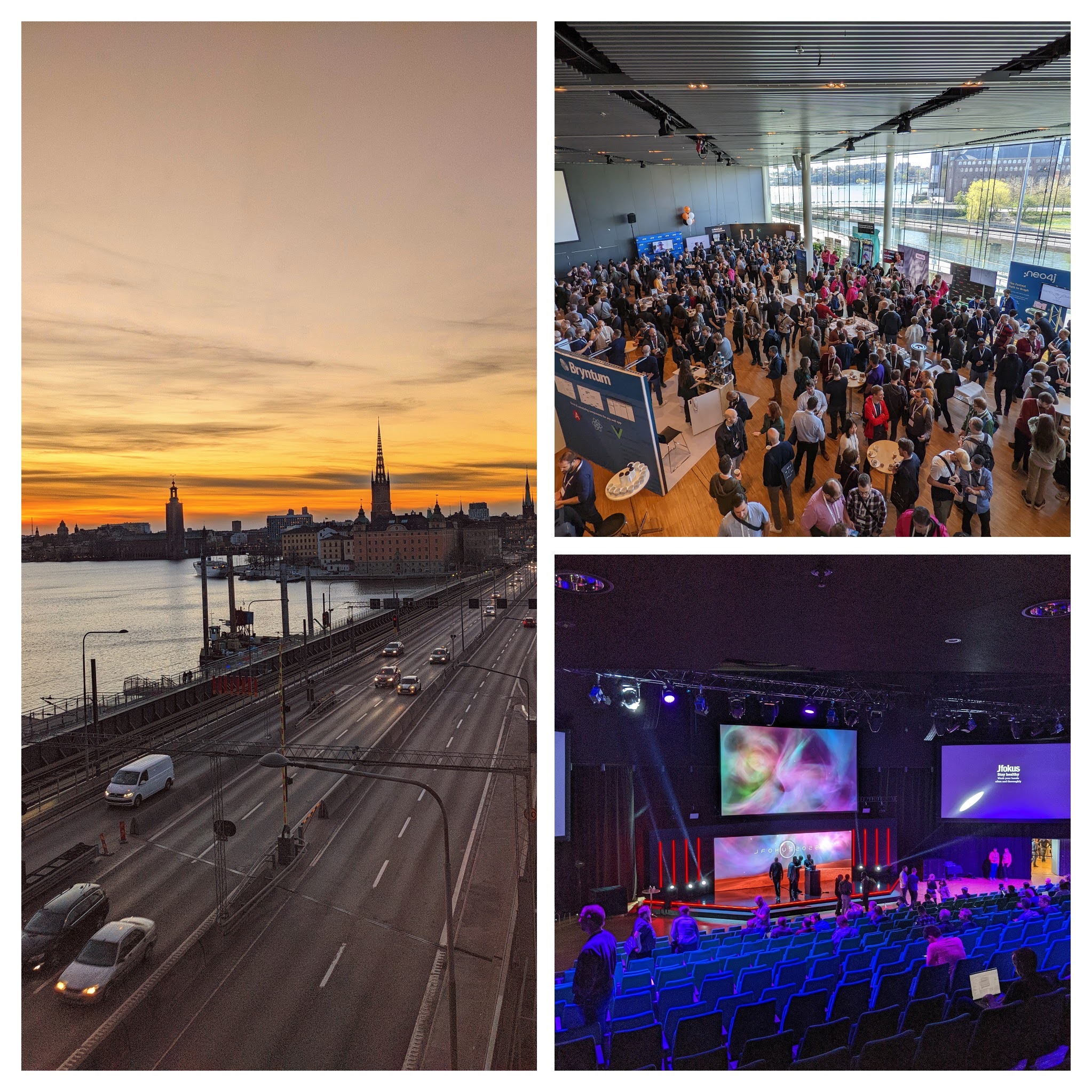 I wasn't sure what to expect. Would it be a full conference? Would people wear masks? Would people interact or would they social distance? Would there be an after-party? Would it be like before the pandemic or would there be a new post-pandemic conference format?
As soon as I walked into the conference, it felt like the good old days. It was a full conference (~1600 people) with many sessions, active booths, and everything else you could expect from a tech conference pre-pandemic. I was a little nervous that hardly anyone wore masks but at this point, I was accepting the risks associated with in-person events, so I went along with it.
I delivered my Choreography vs. Orchestration talk to an audience of ~80 people.
It was great to be able to talk to a live audience, get feedback, and answer questions. I also got to meet my colleagues Abdel and James and watched James' two excellent talks on A tour of modern Java and Architectural Patterns for Distributed and Decentralized Data. I watched other great sessions on mostly Java-related topics such as GraalVM, Micronaut, Spring Native, and Quarkus. The most memorable talk for me was from Henrik Kniberg on Reinventing Minecraft world generation. Even though I've never played Minecraft, it was quite interesting to learn the details about how Minecraft worlds are generated. It was a fun and very informative talk.
As JFokus came to a close, I was pleasantly surprised at how normal everything felt. I still couldn't believe that full in-person conferences had returned as quickly as they disappeared at the beginning of the pandemic.
TEQnation
My second in-person conference was TEQnation in Utrecht, Netherlands (May 12). I spoke here once back in 2017 and I was happy to be back in the Netherlands. It's a general tech conference with about ~1000 attendees.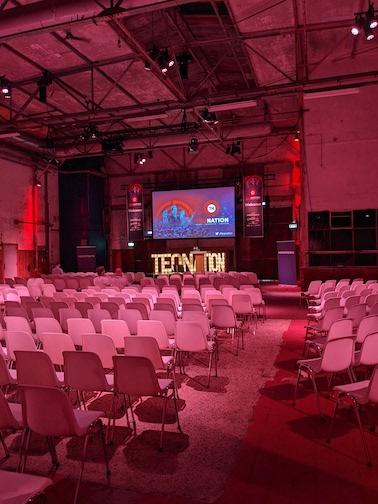 Similar to JFokus, TEQnation felt like a normal conference with a lot of attendees, booths, and presentations. I was convinced at this point that in-person events are back and they hadn't lost anything during the pandemic. It was a nice surprise to learn that my colleague Lee Boonstra was a keynote speaker! I gave my Choreography vs. Orchestration talk again to an audience of ~90 developers.
Voxxed Days Zurich
I was excited about Voxxed Days in Zurich, Switzerland (May 17) for a couple of reasons. First, this conference was postponed three times during the pandemic. It felt like a small victory that it was finally happening. Second, I was excited to visit the Google campus in Zurich and meet my colleagues there.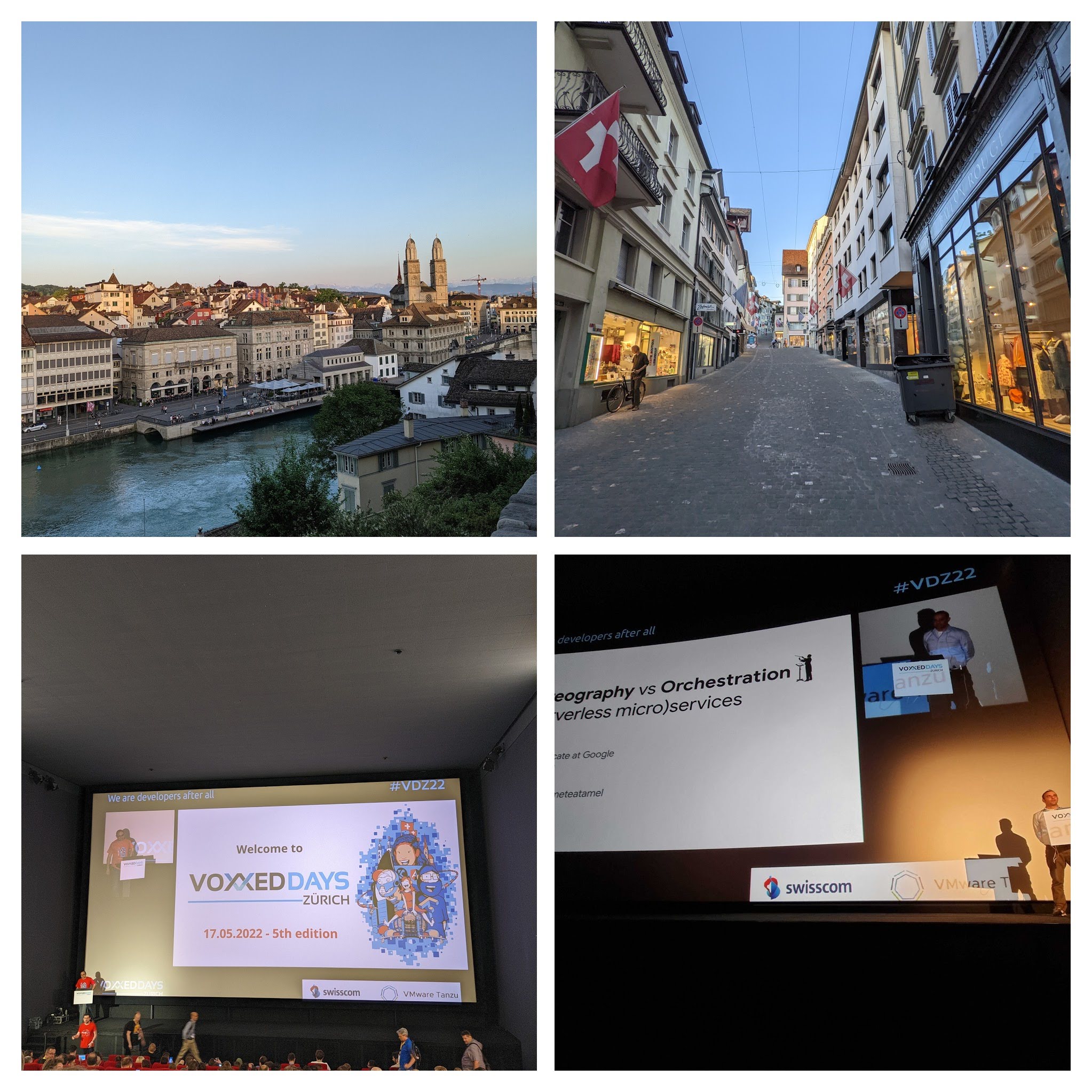 There were about ~700 attendees with three parallel tracks. I reprised my Choreography vs. Orchestration talk again for an audience of ~120 developers.
I also got to meet some of my GDE friends and colleagues - including Marton at the conference, Riccardo and Casey at the office. I really started to feel like the pandemic was over when I began meeting random colleagues in random offices with no pre-planning :-)
Java Day Istanbul
My next trip was to Java Day in Istanbul, Turkey (May 27-28). Istanbul is one of my favorite cities to visit (amazing food and history!). Java Day Istanbul is one of the main tech conferences in Turkey. I spoke there before a couple of times and also spoke online during the pandemic back in 2020.
This year, the conference attracted ~350 developers. I presented a new talk on Serverless beyond functions to an audience of around ~150 developers. It was extra challenging to present a technical talk in Turkish but I think I managed it well :-)
I talked about how serverless has evolved over the years and what tools and services exist for it today. On top of the great technical content and an amazing speaker dinner, Java Day Istanbul had the best conference food I've had in a long time, which is no surprise given the amazing food in Istanbul in general!
NDC Copenhagen
NDC is a series of conferences that happen all around Europe, Australia and also in the US. NDC was the last conference in London that I presented at before the pandemic, and being back to it in Copenhagen, Denmark (Jun 1-2) felt really special. As always, everything was perfectly organized. I had about ~500 attendees, with about 80 joining me for my presentation on Serverless beyond functions.
JNation
At this point, I was getting quite relaxed about in-person events. I was very excited about the next event, JNation in Coimbra, Portugal (Jun 7) because it was in sunny Portugal (I love sunny places!) and it was a conference I've never been to before.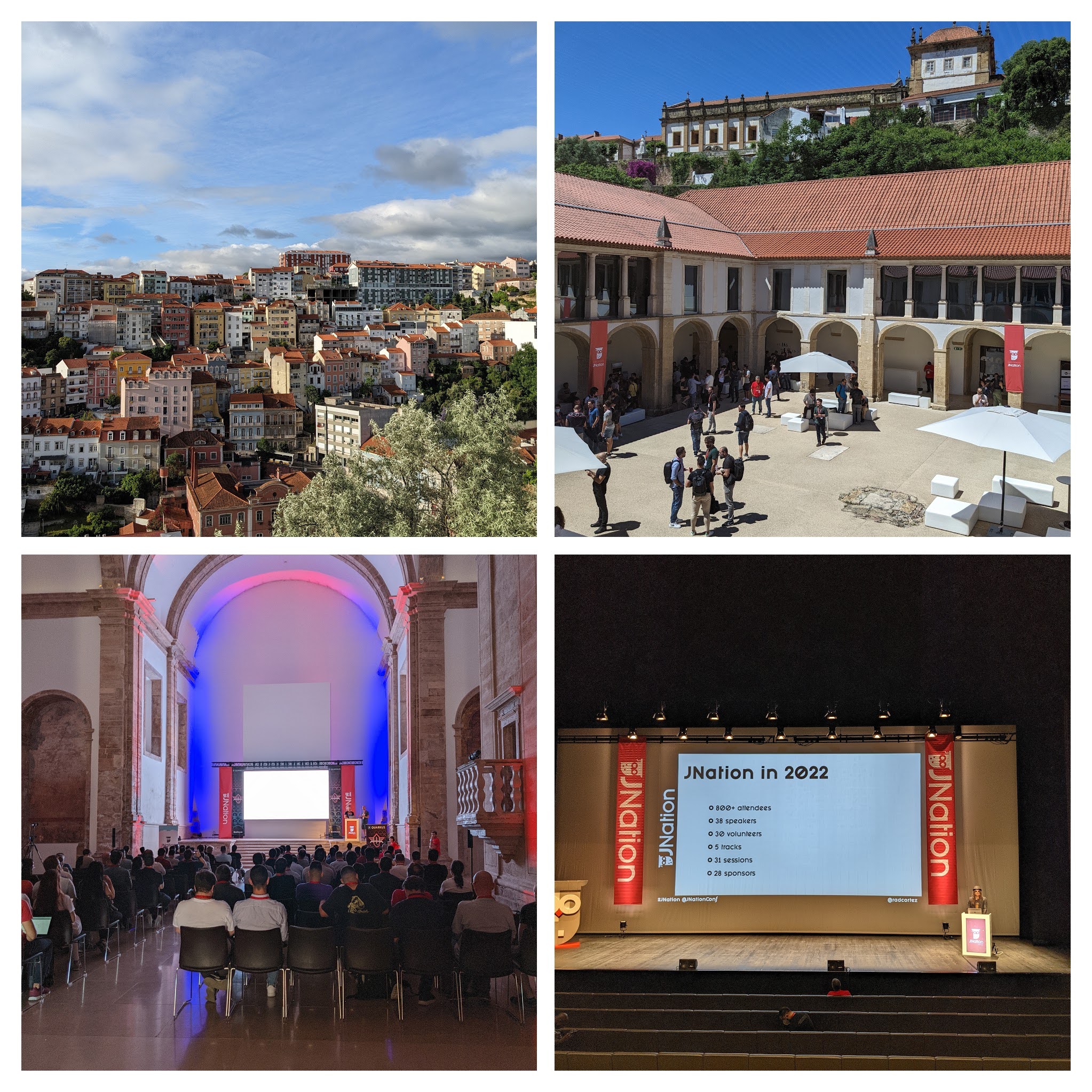 I gave my Serverless beyond functions talk to an audience of ~200 developers.
Everything from the city, venue, organizers, technical content, and speakers to the after-party was quite impressive with JNation. I was happy to reconnect with old GDE friends like Rustam and meet new friends like Roberto, who was one of the organizers of this great conference.
WeAreDevelopers
Next stop was the WeAreDevelopers conference in Berlin (Jun 14-15). This is among the biggest tech conferences in Europe. They usually have famous keynote speakers. I spoke there back in 2017/2018 when Steve Wozniak was one of the keynote speakers. This year, they attracted 8000+ developers and other famous keynote speakers, such as Joel Spolsky (Founder of GitHub) and Bjarne Stroustrup (Inventor of C++).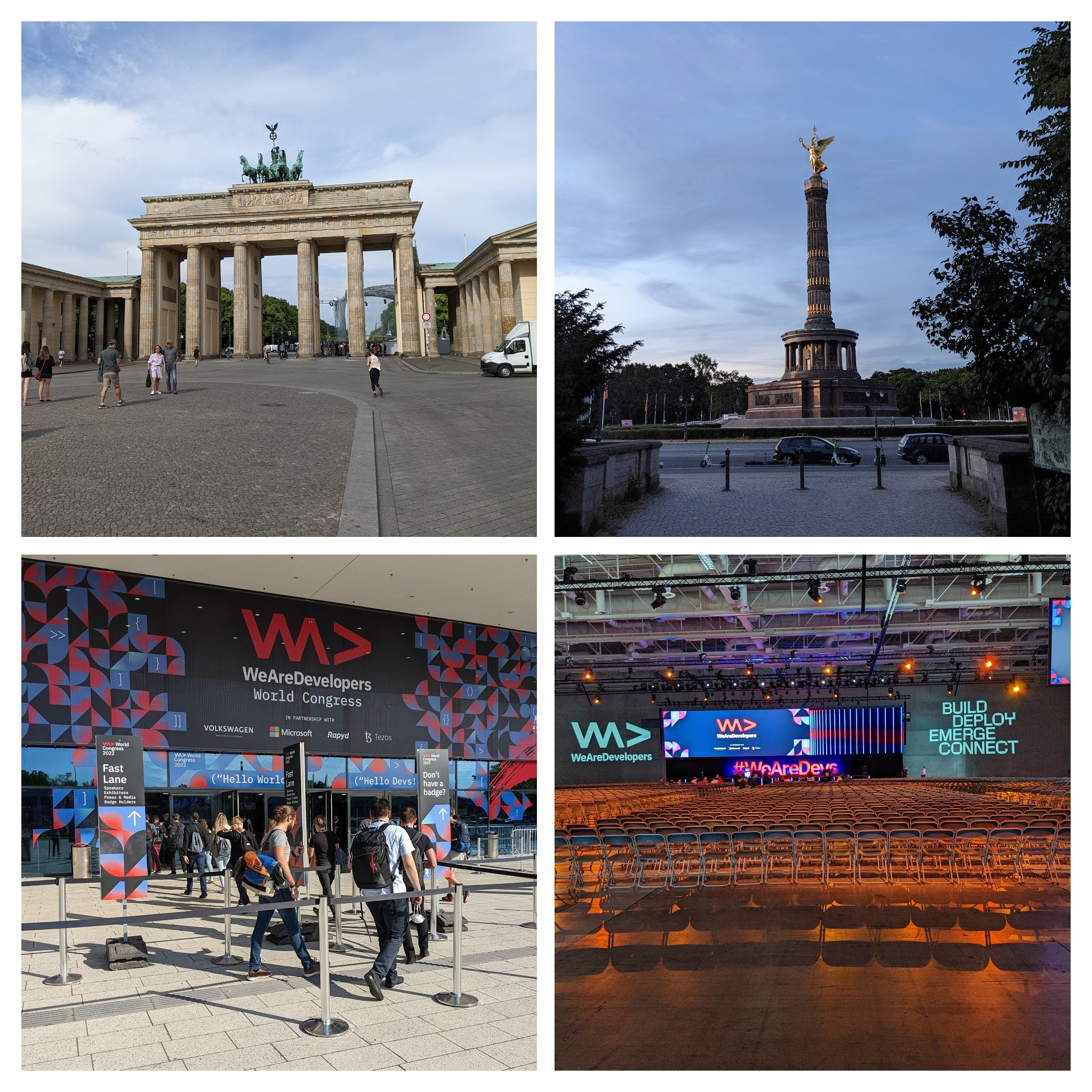 I did my usual Serverless beyond functions talk for an audience of ~160 developers.
Voxxed Days Thessaloniki
My first 2022 conference marathon came to an end with Voxxed Days in Thessaloniki, Greece (Jun 24-25). I visited this lovely seaside town back in 2017. Patroklos and his team did a great job organizing this first post-pandemic edition of this event with ~750 attendees.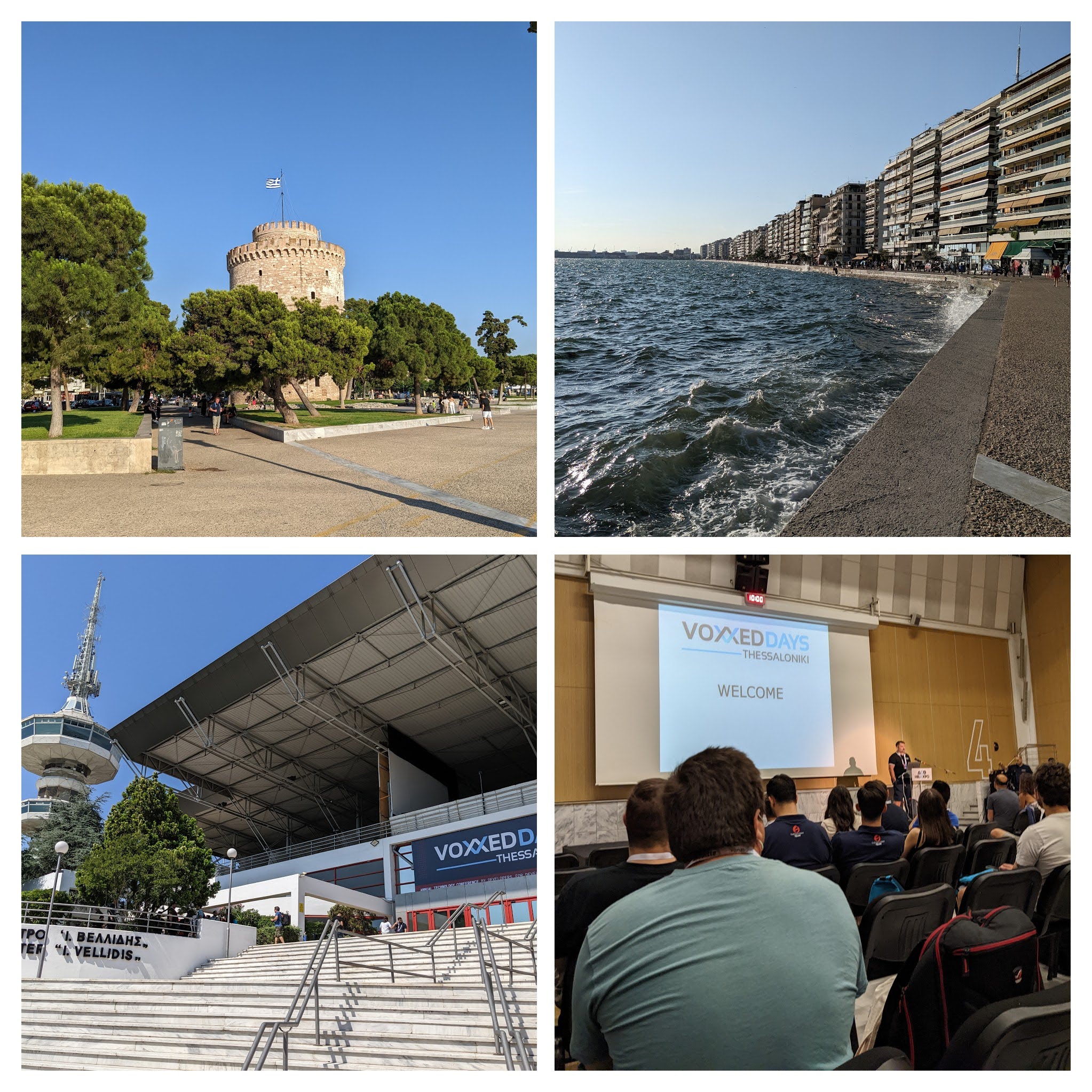 The room was full for Chroeography vs. Orchestration talk with ~250 attendees.
It was also nice to meet GDE friend Eliza after a while.
Reflections
I didn't know what to expect going into my first in-person conference marathon after 2.5 years. I didn't know if I'd enjoy speaking at in-person events. I didn't know if I'd want to travel like before. I was nervous about catching Covid.
In the end, everything turned out to be better than I expected. Conferences were bigger and better than before. People were hungry to learn and interact, and most sessions were full. It felt great to be able to talk to a live audience, get questions, and network during breaks. It was awesome to meet all the other speakers and attend dinners, boat cruises, and city walks. I got tested for Covid after each event and thankfully, I was able to avoid it, despite all the socializing.
After all these in-person events, I feel energized again in a way that I never felt with online conferences. I am looking forward to speaking more and traveling to other interesting places later in the year.
---
See also